Story
You can book an appointment to receive your free COVID-19 vaccine, and choose either the Pfizer or AstraZeneca, at any of SA Health's vaccine clinics.
We recently spoke to two international students about their personal experience receiving the COVID-19 vaccine in South Australia. Zag, a forty-year-old student from Thailand is fully vaccinated, having received a second dose of the Pfizer COVID-19 vaccine in early August. Twenty-one-year-old Camila, from Colombia, is due to receive her second and final Pfizer dose later this month. Here is what they had to say about their respective COVID-19 vaccination experiences.
Why did you choose to get vaccinated against COVID-19?
Camila: I had no reservations about getting vaccinated. A member of my host family here in Adelaide has a terminal illness, so I decided to get the vaccine to help protect them. Also, I worry about getting COVID-19, and I am far away from home and don't want to give my parents extra worries.
Zag: I have worried over the pandemic so much because I work part-time (20 hours a week) but if the government announces a lockdown, I will lose my income and ability to pay my regular living expenses. I now have peace of mind knowing that I have sufficient immunity to fight COVID-19.
Tell us about the booking process and getting the vaccine
Camila: I was eligible to get an early vaccine because of the host family member I mentioned earlier. The booking process was straightforward. My host family did it for me!
When I arrived at the vaccination clinic, I waited in a reception area and filled out some paperwork about my medical history and allergies. I was also asked to show my OSHC card. When it was my turn, a nurse took my temperature, and I went into a medical room for the injection.
Afterwards I was asked to wait for 15 minutes to make sure I didn't have any immediate side effects.
Zag: I found out about the vaccine availability from my host family who sent me the weblink to SA Health. I booked in for my two vaccinations as soon as I could when it started for my age group. SA Health sent me an email confirmation with the clinic name, and the dates and times of my appointments.
I received the vaccine at the Women's and Children's Hospital. When I arrived, the staff gave me a mask and asked me if I had any COVID-19 symptoms and if I had travelled to another state recently. I filled in a form about basic personal information and my medical history, for example if I have any allergies. Before giving me the vaccine, the nurse went over my history with me, and reconfirmed that I understood the process.
Everything went very well. Afterwards, I waited for 15 minutes in a waiting room where the nurse checked if I had any side effects such as headache or sickness.
Ok. Tell us the truth. Did the injection hurt, and did you have any side effects?
Camila: In the lead-up I was a bit anxious as my mum had been a little sick after receiving her vaccine, and I was worried that I wouldn't be able to go to work. Also, I am scared of needles.
Afterwards, I did feel a bit sick but not as bad as I thought. I had a small headache, pain in my arm and I couldn't lift my arm the next day, but it was just for one day.
It didn't hurt and I am now looking forward to my second dose so that I don't have to think about it anymore!
Zag: No, it did not hurt, and I didn't have any pain, soreness or side effects after the first dose.
My second dose of Pfizer vaccine was three weeks after the first. Once again, I did not have any pain or side effects, fortunately. I think because I slept enough the night before and afterwards, and I regularly exercise – I run, do yoga and exercise at the gym, so that may have helped.
Do you have any advice for your fellow international students about getting the COVID-19 vaccine?
Camila: I would advise everyone to get information from official sources, like SA Health. Research the components of each of the vaccines, so that you can sign the paperwork with confidence, knowing that you are unlikely to have an allergic reaction to the vaccine.
And, it really doesn't hurt!
Zag: The best part is that the vaccine is free of charge, even for overseas students. I was very glad for this government offering.
I advise all international students to do their own research on the risks and benefits of vaccination.
Life is worth protecting, not just for yourself but for people around too. Do take care and be kind to each other.
Zag, we couldn't agree more.
To find out where the state-run vaccination clinics are located, and to book in for your free vaccine, follow this link to SA Health.
Getting vaccinated protects you against the serious effects of COVID-19 and means you are less likely to pass it on to others. While voluntary, vaccination is an important public health measure, helping to provide us with a path out of COVID-19. Everyone is encouraged to get vaccinated to help protect the community.
If you need more information, SA Health has translated information about COVID-19 vaccines into multiple languages. Find information in your language here, or call the COVID-19 vaccine helpline on 1800 020 080, or 13 14 50 for translating and interpreting services.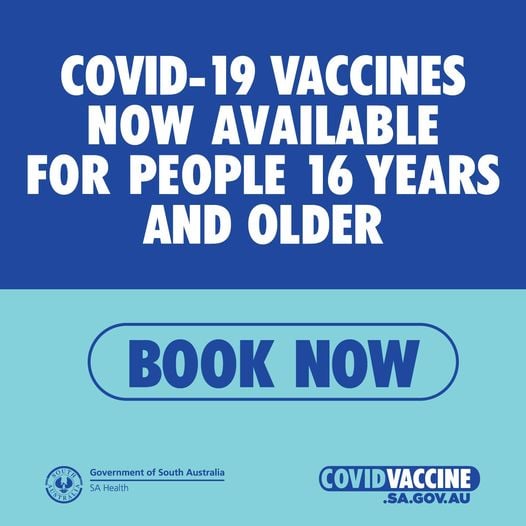 To help you stay informed, safe and supported throughout the global pandemic, please refer to our COVID-19 Information page which is regularly updated.
View all Stories