News
Last Updated Tuesday 15th November, 2022
Welcome to our COVID-19 information page for international students.
StudyAdelaide will be updating the information provided on these pages on a regular basis to help you stay informed, safe, and supported throughout the global pandemic.
---
COVID-19 Vaccination for International Students
Everyone 5 years and over can now be vaccinated against COVID-19.
The following COVID-19 vaccines are available in Australia:
Pfizer vaccine is available for people aged 5+ at SA Health vaccination clinics, participating GPs and pharmacies.
Moderna vaccine is available for people aged 6+ at participating GPs and pharmacies.
Novavax vaccine is available as a primary course for people aged 12+, or as a booster dose for people aged 18+ at selected SA Health vaccination clinics, and participating GPs and pharmacies.
AstraZeneca vaccine is available for people aged 18+ at participating GPs and pharmacies.
Moderna bivalent vaccine is available for eligible people aged 18+ when receiving the third or fourth dose at selected vaccination clinics. The vaccine provides protection against the original COVID-19 strain and the Omicron variant. Book at your GP or pharmacy.
To find out where you can get vaccinated, and to book your appointment, follow this link to SA Health.
MySA GOV proof of vaccination
You can add your COVID-19 digital vaccination certificate to the mySA GOV app. This app is a quick way to check in with COVID Safe Check-In and show proof of your COVID-19 vaccination whenever it's required.
To find out how to add your COVID-19 digital certificate to the mySA Gov app, follow these instructions.
If you need more information, SA Health has translated information about COVID-19 vaccines into multiple languages:
call the COVID-19 vaccine helpline on 1800 020 080
for translating and interpreting services call 13 14 50.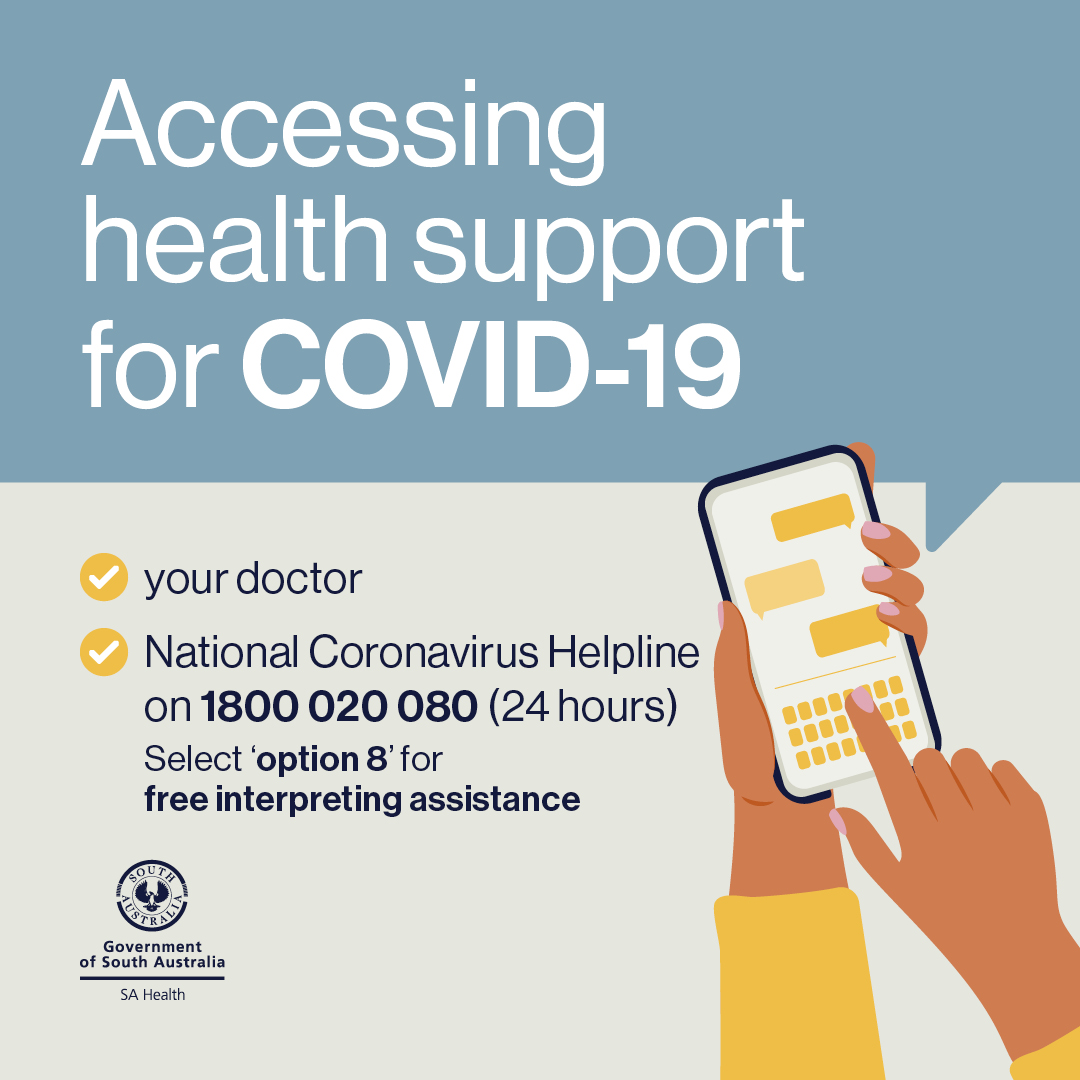 ---
Travel and Visas
From 6 July 2022, people travelling to Australia no longer have to complete a Digital Passenger Declaration (DPD) to declare their COVID-19 vaccination status.
Getting to Adelaide from overseas
For further information please refer to our Welcome to Adelaide webpage and visit the Department of Home Affairs website.
Getting to Adelaide from interstate
If you are moving to Adelaide from interstate to continue your studies, learn more about interstate travel requirements.
As travel restriction advice is constantly changing, we suggest you keep up to date here.
---
Current SA Health Direction
Please refer to the SA Health website for the current COVID-19 Direction, including the full list of restrictions on activities.
Mask Requirements in South Australia
Click on the image below for the full details regarding the wearing of face masks.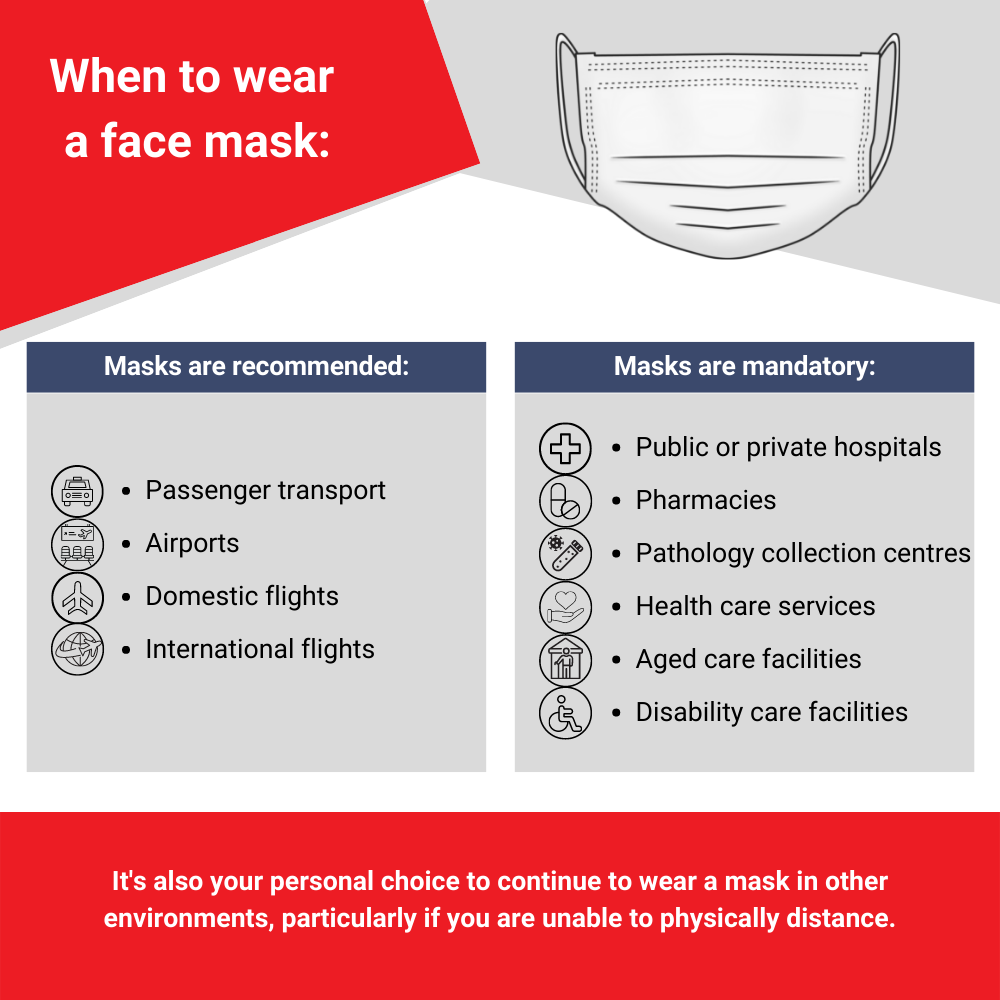 Everyday precautions
Practising good hygiene is the first step in preventing the spread of infectious diseases:
wash your hands often with soap and running water, for at least 20 seconds. Dry them with a paper towel or a hand dryer. Alternatively use alcohol-based hand sanitisers
try not to touch your eyes, nose or mouth
cover your nose and mouth with a tissue when you cough or sneeze
stay home if you're unwell to avoid making others sick.
Physical distancing
Avoid close contact and crowded places wherever you can:
keep at least 1.5 metres distance from others wherever and whenever possible
avoid hugging and kissing
swap handshakes for a wave
turn face to face interactions into phone or video conference calls
consider working/studying from home
pay using tap-and-go instead of cash.
---
COVID-19 Health Advice
COVID-19 Symptoms
If you have any of the symptoms below, even if mild, you need to get tested for COVID-19 as soon as symptoms appear:
Fever or chills

Cough

Sore throat

Runny nose

Shortness of breath

Loss of taste or smell

Diarrhea and vomiting
Call 000 (Triple Zero) in an emergency, such as difficulty breathing or chest pain.
What to Do if You're Feeling Unwell
If you are unwell or develop any of the symptoms listed above (even if mild), get tested immediately and go straight home to self-isolate.
Do not go to public places (e.g. work, school, university, shopping centres, public parks, social or religious gatherings).
Do not visit hospitals.
It is very important that you stay home and call the doctor before you visit the doctor's practice and be sure to describe your symptoms and travel history when you call.
Please refer to your institutions' list of medical providers or call the National Coronavirus Helpline on 1800 020 080. Clinical staff are available 24 hours, 7 days a week.
To find a doctor close to where you are living, visit the Find a Health Service tool by Health Direct.
Should you require translating assistance when seeking medical advice please call TIS – Translating and Interpreting Service on 13 14 50.
Contact your OSHC provider to understand the level of cover provided by your policy in case you need medical services or treatment.
How to get tested
There is no cost for COVID-19 testing if you are tested at SA Health or Primary Health Network (PHN) facilities, however, private providers may charge a gap for COVID-19 testing.
Rapid Antigen Testing (RAT)
Rapid Antigen Testing (RAT) is an alternative to standard PCR testing.
If you test positive in a RAT, you do not need to get a PCR test. You must report your result with 24 hours using this online form.
If you test negative using a RAT but have COVID-19 symptoms, stay at home until you are well.
Polymerase Chain Reaction Testing (PCR)
If you have COVID-19 symptoms, you can get a PCR test at SA Health testing sites. You should quarantine until you receive a negative result.
If you test negative but have COVID-19 symptoms, stay at home until you are well.
General Practitioner (GP)
If you prefer to get tested by your GP, it is very important that you stay home and call the doctor before you visit the doctor's practice and be sure to describe your symptoms and travel history when you call.
If you qualify for a test, your GP may test you in their clinic, take a swab test while you remain in your car, or refer you to attend a drive-through testing clinic.
Private providers may charge a gap for COVID-19 testing.
What if I test positive for COVID-19
SA Health has created a webpage with all you need to know about isolation and support available for you.
Who needs to quarantine or isolate
From 12.01am Friday 14 October 2022, you do not have to isolate if you test positive to COVID-19, but you should stay home if you are sick.
There are important things you can do protect our community. If you have COVID-19, you should:
stay home until you are well
wear a mask in indoor public places or on public transport if you must leave your home
tell your workplace and talk about when you can return to work
avoid large gatherings and crowded indoor places
not visit a hospital, aged care or disability care facility for at least 7 days.
For information on what to do if you test positive to COVID-19, visit SA Health website.
If you need health support, you can also contact the National Coronavirus Helpline on 1800 020 080 (available 24 hours, 7 days). When you call, press 'option 8' for free interpreting assistance.
---
COVID-19 and Your Wellbeing
As the global pandemic continues to impact all of us in different ways, taking time for self-care is really important, especially when you are a student. Taking just a few minutes each day for yourself can help reduce anxiety, stress, loneliness and boost your wellbeing.
Simple measures like exercising daily, eating a healthy diet, getting enough sleep, and spending time with others can help us maintain a healthy emotional state, but there are times when this is not enough, and we need extra support.
If you are feeling anxious, depressed or not quite yourself, know that you are not alone, it happens to a lot of us at some point in our lives, and help is available.
---
Watch the journey stories of Taeyoung and Khushboo, where they share the challenges they faced as international students and the strategies they learned to cope with the circumstances.
Get some support
If you have tried consistently to improve your mental health and still aren't functioning at your best, then it's important to find out what's going on and how you can manage it. Sometimes just talking to someone can help you feel better.
As a first step, you may want to talk to someone in your university or school; your institution will offer you support or guide you in the right direction.
Your GP (General Practitioner) can also set you up with a self-care plan that will help you to access counselling or visit a psychologist. Remember that it's okay to get the support you need.
A number of organisations in South Australia offer free and confidential mental health support services to international students regardless of your age, gender, ethnicity, sexual orientation, or religion.
Trained crisis supporters are ready to listen, support, and help you work through what's on your mind. Services are confidential and all you need to access them is your student card.
Relationships Australia
ASK PEACE is a free virtual service for people of culturally and linguistically diverse backgrounds, and if you are not confident speaking English, they can get an interpreter on the line to help understand your issues and concerns.
Call 08 8245 8110
Visit https://www.rasa.org.au/services/all-services/askpeace/
Headspace
eHeadspace is a Headspace initiative offering free online and telephone support and counselling to young people aged 12 – 25 and their families and friends. If you're going through a tough time, you can call them, join a group chat, or access helpful online resources.
Call 1800 063 267
Visit https://headspace.org.au/eheadspace/
Beyond Blue
Beyond Blue has trained counsellors available 24 hours a day, 7 days a week. Visit their website, chat online or call them for advice and support based on your specific needs.
Call 1300 22 4636
Visit https://www.beyondblue.org.au/
Lifeline
Lifeline also provides advice and support around the clock. You can text or chat online with a counsellor or speak to someone in person.
Call 13 11 14
Visit https://www.lifeline.org.au/
---
Financial and Emergency Assistance
Food and Essential Items
Do you need assistance to buy food, pay your rent and bills, access a doctor, or buy medication? Here is a list of organisations that can help if you're in a crisis situation. All you need is your student ID card.
Services are FREE or heavily subsidised, and confidential.
Anglicare SA can provide support through the provision of food, groceries, clothing, pharmacy vouchers, no-interest loans, and financial counselling.
Food Hubs (small supermarkets with subsidized prices on fresh food and grocery items) are located at their Elizabeth and Christies Beach locations. Please check the Anglicare website or call for opening times and to book an appointment for services. Appointments are essential.
Locations:
Adelaide CBD (08) 8305 9434, Elizabeth (Northern Adelaide) (08) 8209 5400, Christies Beach (Southern Adelaide) 1800 748 149
Baptist Care services can be accessed via a number of locations across Adelaide. They offer food and emergency relief (including temporary accommodation), and health and wellbeing services.
The Community Food Hub provides free bread, fruit, and vegetables with any purchase, and food and essential items at a reduced cost. The Food Hub is open Monday to Thursday 10am – 3pm and is located at 216 Wright Street, Adelaide
Locations:
Adelaide CBD (08) 8118 5200, Wayville (08) 82737100, Hallett Cove (08) 8387 3787, Seacliff (08) 8177 4900, Salisbury (08) 8209 5000.
There are 14 Uniting Care Emergency Relief centres in South Australia providing emergency assistance including food, clothing, essential items to people in need.
Locations:
Follow this link or call (08) 8245 7139 to find a Uniting Care Emergency Relief Centre near you.
Uniting Communities Emergency Assistance is currently being provided via phone assessment, Monday to Friday for people living in the Adelaide area and Adelaide Hills.
Uniting Communities provide food, clothing, pharmacy vouchers, assistance with bills and expenses, and can connect you to other services that can help.
Call (08) 8202 5846 between 9am – 1pm to book a same-day appointment.
Are you struggling to pay your credit card? Is your electricity bill overdue? Or are you having trouble making ends meet? The Salvos can help you get your money under control.
The Salvation Army has professional financial counsellors who can provide personalised advice on how to get through your money problems and avoid trouble in the future. Importantly, the service is free and confidential. Or if you are after a personal loan, you may be eligible to participate in their No Interest Loan Scheme.
Call 1800 722 363 or follow this link to find a financial counsellor near you.


Financial Support for Accommodation
The International Student Support Network (ISSN) homestay program provides affordable options for accommodation.
ISSN homestay was designed to be a short-term accommodation option for international students to have some comfort and support while making it through the COVID-19 crisis. The standard homestay period is 4 weeks, although in special circumstances a shorter length of stay may be requested by your education provider. The good news is you and your host have the option of extending by mutual agreement.
The arrangement includes a private room, three meals a day, the use of a shared laundry and bathroom, internet access, and support from your host family.
Your education provider will need to confirm your eligibility. Once you have contacted them and they have referred you to ISSN, you can apply for placement by registering here.
---
Employment
As the industry recovers in South Australia, there are more job opportunities emerging. We are always adding roles suited to international students to the list of employment opportunities in Adelaide. We encourage you to apply or complete expressions of interest if you have relevant skills or experience. We also encourage you to monitor job sites, employment pages on Facebook, and your own provider's career centre.
Job Shop
StudyAdelaide has created Job Shop, a new platform dedicated to connecting leading businesses with students looking for their first job in Adelaide.
You can even apply before you arrive in Adelaide!
For information and to apply, visit Job Shop.
Employment toolkit
Do you need help to apply for a job? StudyAdelaide's Employment Toolkit provides you with a free resume and cover letter template, sample interview questions, pre-interview tips, networking tips, and more. Use these resources to your advantage and gain an edge over your competition.
Resources, including recorded employability webinars, are available on the website.


Temporary relaxation of working hours for student visa holders
The Australian Government has temporarily removed the restrictions on working hours for international students across all sectors of the Australian economy to alleviate workforce shortages in Australia.
These temporary measures remain in place until 30 June 2023. Students must ensure they are aware of any changes to visa conditions, including work rights.
What this means for you:
You can now work more than 40 hours per fortnight while courses of study or training are in session
If you are an international student newly arrived in Australia, you can seek employment and start work before your course or training commences
You are still required to maintain your course enrolment and ensure satisfactory course attendance and course progress, to comply with your visa conditions.
For more information, visit the Department of Home Affairs website.
---
Further Assistance
Please contact StudyAdelaide or your institution if you require advice.
We recommend you keep up to date with the latest information through your institution and the studyinaustralia.gov.au website.
We also recommend that you download the MySA GOV app, which enables you to use the COVID Safe Check-In feature. If someone in South Australia tests positive to COVID-19, the COVID Safe Check-In enables SA Health to quickly contact others who may have been exposed to the virus and stop the spread of COVID-19.
View all News