News
What are they known for?
When deciding which university to go for, it's normal to go straight to its ranking and that's okay. However, before you start typing in 'Which are the highest ranked universities in Australia' in Google, stop for a moment, and let us explain to you briefly what measurements these rankings actually take into consideration. You don't need to know everything about how they are calculated, however as rankings are often an influential decision factor, it's good to have a general understanding about them.
There are many different ranking systems however the most commonly referred to are:
The university ranking systems all differ slightly in their methodology; however, the following factors are the most commonly used ones to determine how high a university is ranked:
The number of students
the student gender ratio
staff-to-student ratio
percentage of international students
teaching quality
employability
volume and reputation of research and citations
By far the biggest factors taken into consideration for university ranking is the volume and reputation of their research, and citations by scholars globally (a citation is when research is referenced in other publications).
So, if you are looking to pursue a career in research, rankings are absolutely a good measure for universities. If research is not entirely what you are interested in, then there are other measures such as employability or career outcomes that you can look at.
Both the Times Higher Education World Rankings and QS World University Rankings weight research and citations as the most important factors in their ranking methodologies. Employability or career outcomes are not measured in the Times World Rankings, and QS Rankings factors employer reputation in only 10% of its methodology. So what else could you look for?
---
Quality Indicators for Learning and Teaching (QILT)
The Australian Government funds the Social Research Centre to produce the Quality Indicators for Learning and Teaching (QILT). The website provides transparent and relevant information about Australia's higher education institutions from the perspective of recent students and graduates, measuring things like student experience, graduate satisfaction, graduate employment and more. Let's take a look at one particular dimension – overall employment.
In QILT, the overall employment measure is the proportion of graduates who were employed 4 months after completing their course as a percentage of those who were available for employment. The graph compares 6 universities – 2 from Sydney, 2 from Melbourne and 2 from Adelaide. All of the universities are world-class, and deliver very similar levels of satisfaction from recent graduates, regardless of their world university ranking.
Overall employment - QILT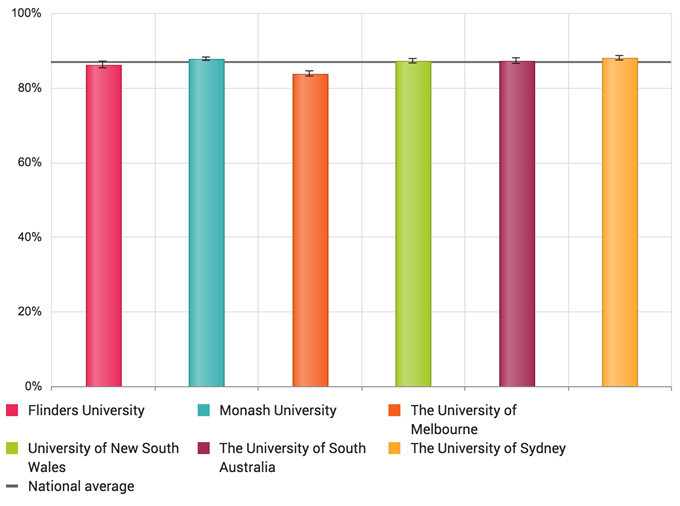 ---
Q: Which university networks are they part of?
You may not instantly think of it, but reviewing which networks a university belongs to can greatly assist you in understanding the character of the university. Networks which consists of alliances and groups usually share the same vision, therefore by knowing which of these groups the university is in, can uncover a lot about your institutions focus.
There are three main university clusters in Australia:
Innovative Research Universities (IRU)
There are 7 members of the Innovative Research Universities (IRU) cluster, who are committed to delivering excellence in teaching and research in Australia. The 7 universities are:
Australian Technology Network (ATN)
The four members of the Australian Technology Network are all committed to producing industry-ready and enterprising graduates and as a result of this philosophy, have strong ties with industry. The four universities are:
As the name suggests, the Group of Eight (Go8) is made up of eight universities with a focus on research. The eight universities combined spend around AUD $6 billion on research each year, which is around 73% of all category 1 competitive grants available in Australia. This is why they are so highly ranked, and rightfully so. The eight universities are:
There are also international university networks such as the Association of Pacific Rim Universities (APRU), which link universities from the Americas, Asia and Australasia for collaboration. This is good to look at as it may increase the chance of study opportunities like exchanges with prestigious institutions overseas.
---
Q: What industry experience do they provide?
Taking into consideration that different fields of study have very different desired experiences and also the fact that everyone's learning style is not the same, it is important to choose a university that gives you the best skills suited to your chosen field of study.
Again, it is possible to compare the satisfaction with skills development by looking at the Quality Indicators for Learning and Teaching (QILT) research. Two universities in Adelaide – Flinders University and University of South Australia both exceed the national average for satisfaction, and outperform higher ranked universities such as The University of Sydney, UNSW, and The University of Melbourne.
---
Q: What is the campus culture like?
Every university has its own unique personality and culture which is born from the university's history, tradition and its people. It is what defines the university apart from the others. Some may be more academic and prestigious and some more fun and relaxed. It is best to find one that complements well with your personality. The more you feel comfortable in the environment, the greater your overall study experience will be.
There are many ways to get to know a university. This includes going through the official university website, promotional material and even social media channels. Ideally you should go and visit the campus, however the next best thing would be to talk to current and past students, and even staff. By doing so, you should get a good feel for whether the university suits you.
---
Q: Where is the university campus situated?
Last but not least, you'll need to consider where the university is located. It is going to be your second home and where you spend most of your time when studying abroad.
The majority of universities in Australia lie within the East Coast area which consists of Victoria, New South Wales and Queensland. Being Australia's largest capital cities, Melbourne and Sydney have long been all-time favourites with International students. However, in recent years, there's been a shift with Adelaide gaining in popularity.
Larger cities may mean longer commute times and higher costs of living. More compact cities like Adelaide mean you can spend less time commuting, giving you more time to focus on academic studies, or pursing outside interests like sport to allow you to make friends outside your traditional network.
Click here to find out more on what it's like to study in Adelaide.
We hope this guide has helped you become clearer on factors to consider when choosing a university. To understand how much it is to study university in Australia, click here to read our blog.
---
View all News